16 Aug 2022
Milestone unlocked – Penetration Testing Service Licence
We are doubly proud and excited to secure the Penetration Testing Service Licence and the Managed Security Operations Centre (SOC) Monitoring Service Licence from the Singapore Cybersecurity Services Regulation Office (CSRO). This milestone is a testimony to our credentials and capability in providing trusted and quality services to our valued existing and potential clients.
Talk to us on how we can help you or read about our Managed SOC Service and Vulnerability Assessment & Security Testing Services.
26 July 2022
Heron Tech launches Security Operations Centre and Managed Security Services
We are excited to announce the launch of Heron Security Operations Centre (SOC) in Singapore, which will be the hub to provide managed security services for companies in Southeast Asia. This investment marks the transition of our cyber security business into an end-to-end Managed Security Services Provider (MSSP), including CISO and Data Protection managed services, delivering cyber security outcomes that really matter to our clients.
"The new SOC is the culmination of many months of sourcing and understanding the myriad of products and technologies in the market. In the end, we selected one that will provide our security and threat analysts the flexibility to deliver the most cost-effective services. Our team is excitedly looking forward to monitor and protect our customers' systems against the most advanced threats", said Mr Chua Eng Hock, Group CIO and Director (Cyber Security Ops & Engineering) at Heron Technology.
Heron Tech is regulated as a Managed SOC Service provider by the Singapore Cybersecurity Regulation Officer (CSRO) and operate under license number CS/SOC/C-2022-0122.
Find out more about our Managed Security Services.
20 July 2022
Heron is exhibiting at World Cities Summit 2022
We are pleased to announce that we are exhibiting at the World Cities Summit 2022 at Sands Expo & Convention Centre, Singapore from 31 July to 2 August 2022.
The biennial World Cities Summit (WCS) is an exclusive platform for government leaders and industry experts to address liveable and sustainable city challenges, share integrated urban solutions and forge new partnerships. This year, the Summit centres around the theme Liveable and Sustainable Cities: Emerging Stronger.
We will be showcasing our technologies to Future Proof Cities for Urban Air Mobility at exhibition booth C17.
10 May 2022
Our latest achievement in ensuring quality service management to our clients–ISO9001
We are thrilled to announce that we are now ISO9001 certified. This marks a significant step forward for the provision of our cybersecurity and technology services, and we hope to further improve the quality of our service offerings for all our existing and potential clients.
18 Apr 2022
Heron Technology is proud to be part of Singapore's digital transformation
Step by deliberate step, Singapore has made significant progress over the past few years in enabling drone flights in the city state. This infographic in today's The Straits Times captures some of the industry's key moments over the past seven years.
Heron is proud to be a part of this dynamic transformation as it gains momentum, and it's only going to get more exciting from here!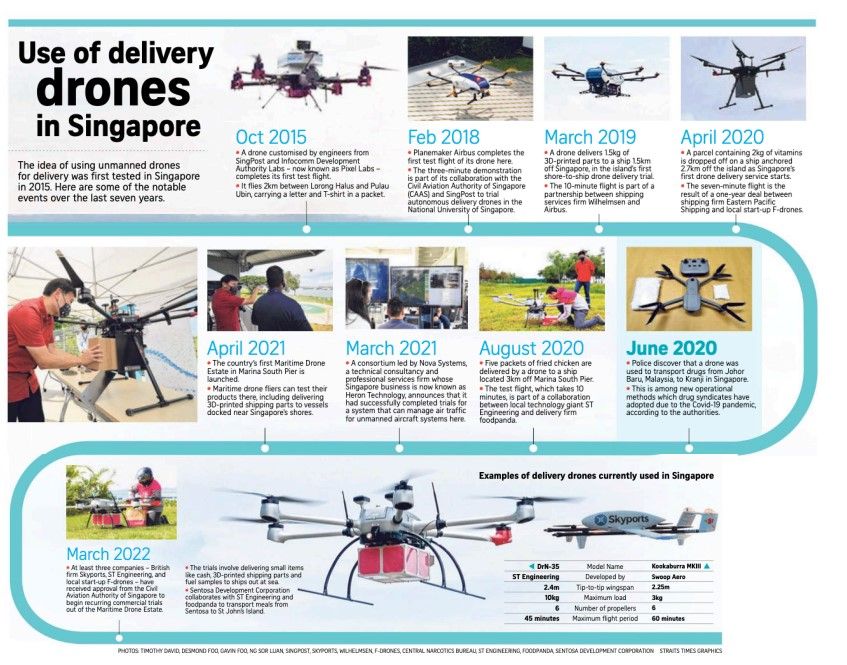 8 Apr 2022
Soft launch of AirBridge, a proprietary UAS platform,  during Singapore Maritime week
The team was back at the Maritime Drone Estate yesterday for the debut of our proprietary drone infrastructure platform – AirBridge. One year on from last year's demonstration, we are thrilled to see concrete developments made in maritime ship-to-shore operations, as we work towards scaling up deliveries to vessels at anchorage.
AirBridge plays an important role in enabling large scale drone deployment to bring about true impact to the shipping and logistics industry. A low-altitude airspace infrastructure platform, AirBridge will allow for multiple drone flights to be managed simultaneously. The platform streamlines the operations process, to achieve a "one operator to many aircraft" mode of operations alongside other users of the airspace. Eventually, this will enable concurrent drone delivery services to multiple vessels at anchorage , while prioritising safety, security and reliability.
Thanks to the Maritime and Port Authority of Singapore (MPA) and our joint exhibitor Skyports for the opportunity to showcase AirBridge today!
1 Sep 2021
Heron Technology announces partnership with Semperis to deliver Active Directory protection and recovery solutions
Heron Technology is pleased to announce our partnership with Semperis to deliver Active Directory protection and recovery solutions in Singapore and Southeast Asia.
Active Directory (AD) holds the "keys to the kingdom" and if not safeguarded properly, it will compromise an organisation's entire security infrastructure. Cyberattacks targeting ADs to introduce or propagate malware are therefore on the upswing.
Semperis' Directory Services Protector (DSP) and Active Directory Forest Recovery (ADFR) are the industry's most comprehensive AD threat detection, response and recovery platforms, enabling end-users to have peace of mind in data protection and business continuity.
6 Aug 2021
The need for public and private sector sectors to collaborate in unmanned aircraft technologies development
22 Jul 2021
Heron Tech's CEO shares his story behind the company's recent management buyout in this interview with Lianhe Zaobao
22 Jun 2021
Nova Systems' Asia business divested in management buyout, renamed Heron Technology